This was a good read, but, in my opinion, not quite as good as the first one in the series. I found it entertaining enough to read the next book in the series.
I do like a number of military fiction, especially when it is science fiction as well. I read the blurb and thought it sounded like a good read, so I got it…and read it…in two days.
I couldn't put it down! When I managed to, I found myself being anxious to get back into the story. There's lots of action, offset by some funny moments to break up the tension. There is plenty of tension. I had to force myself to relax, in places, just to quit grinding my teeth. I found this story to be quite unique. I don't think I've read anything like it.Being a sci-fi reader of Herbert, Scalzi, Heinlein, Asimov, others, I've read a lot of stories.
I think anyone who enjoys good science fiction, old-school and otherwise, should read, and enjoy, this book…in my humble opinion.
---
---
Vigilante: Into the Darkness: American Post Apocalyptic EMP Thriller
by
Really enjoyed this book! The story was quite good and was told with level of detail that kept my attention throughout. Good characters and plots well thought out. There was a level of grittiness that may not be acceptable to younger readers, but it was very believable.
---
I liked it. I like books that have kick-ass characters and interesting storyline. This book has that…in spades. I had a hard time putting it down. Best of all, no zombies.
Being an avid reader of sci-fi, this book pulled me in and kept my attention. The premise is different and somewhat original. The ending was different than I expected. The technical details are done well without being boring. Some of the references I found surprising and somewhat nostalgic. There were places that bogged down my reading and caused a little confusion, but the interest is there for the next installment. All in all, a good read.
---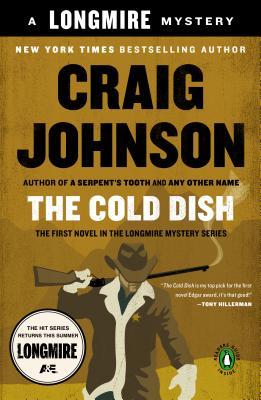 The Cold Dish (Walt Longmire, #1)
by
Jun 01, 2018
After watching all seven seasons of "Longmire", and being a fan, I decided I wanted to see how similar the books were with the series.
I was pleasantly surprised to see that there were some similarities and a lot of differences. The characters were more developed and, since I watched the series, I felt like I knew them already.
Having lived in Montana (not too far from the Wyoming border, the descriptions of the weather and the topography were something I could identify with.
The storytelling was exemplary and the writing was down-to-earth. All-in-all, it was a very enjoyable read and I look forward to reading more of Mister Johnson's work.
---
Power and Pretense
by
May 27, 2018
This was my first book by this author. It was outside my normal reading preference as well. That being said, I liked the story. Things in the news today, concerning the President, made it seem more real, for me. The character's political views seemed to be accurate, or rather, my imaginings of what their political views would be. Having never dealt with the FBI, it's hard for me to say.
At least one description nailed it for me, having lived in Montana, as real, even though the town's name was not real. Another was the comment on Montana weather, which those who live there know is, at best, unpredictable, especially in April.
All-in-all it was an enjoyable read and I'll be looking for more books from this author.
---
The Servants
by
This short horror story belongs in The Twilight Zone. The twist on the servbots is very Rod Serling. It was a little too short, for my taste. Would have liked there to be more. All-in-all, a good story. I liked it!
---
The Desert Botanist ( The Mortal Orphan #3)
by
I've read and enjoyed all three of the submissions by this author. I enjoy her imagination and her writing style. All three books are enjoyable and easy to read. Each shows plenty of imagination, well-described scenery, and exquisite world-building skills.
---
---